Dry Needling procedure in Superior, WI and Duluth, MN, Poplar Maple, Solon Springs, Gordon, Foxboro, Lake Nebagamon, Barnes, South Range & surrounding areas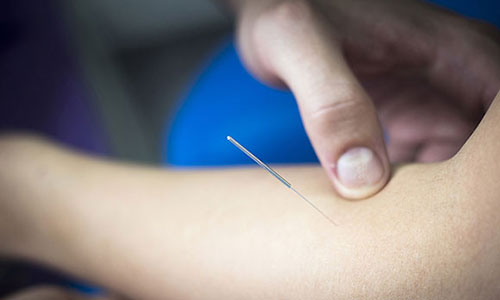 You shouldn't have to live with physical pain. From small strains to major injuries and muscle tension, physical pain can not only interfere with happy and healthy living but also cause long-term complications if unaddressed. At the Center for Muscle and Joint Therapy, we work with our patients to develop personalized physical therapy plans that are specifically suited to treat your physical needs.
We provide a variety of physical therapy services to help our patients achieve maximum wellness and regain health. Dry needling is one of our specialized skilled techniques.
Why Dry Needling?
While traditional physical therapy methods are widely known for helping alleviate pain and help improve physical health, in certain cases patients need to explore alternative methods of treatment. Dry needling is an alternative physical therapy technique that can help reduce pain by penetrating built-up muscle tension and improving mobility.
What is Dry Needling?
Dry needling is simply known as an innovative and effective Physical Therapy technique. With the everyday wear and tear of our muscles to strenuous physical activity, our muscles produce small and uncomfortable muscle knots, medically known as trigger points. Often times these small trigger points can cause extreme pain and limit our mobility. If left untreated they can gradually reduce your muscle's functional ability.
Dry needling is a skilled technique using sterile, solid, small gauge needles to penetrate aggravated muscle tissue for the purpose of decreasing pain and improving function. It encourages healing and can improve functional mobility by increasing blood flow, decreasing muscle tension and positively stimulating the nervous system.
Who Can Benefit from Dry Needling?
Our certified dry needling practitioner provides dry needling to a variety of patients. Dry needling can offer an alternative solution to painful symptoms caused by surgery, injury, or muscle strain. Dry needling is commonly used to help patients alleviate the painful symptoms of:
Low back pain/tension
Neck pain
Tennis elbow
Migraines
Spinal dysfunction
Joint dysfunction
Sciatica
And other musculoskeletal conditions
For whatever the painful symptoms you are facing, dry needling can offer a unique alternative. Our certified Practitioner at the Center for Muscle & Joint Therapy specializes in dry needling and works diligently to provide our valued patients with the best physical therapy methods available.
YOU have the right to choose your physical therapy specialist!
CHOOSE US!
Contact us today to learn more about our services.
715-394-6355